Sunrise Black Walnut Complete Premium Futon Sofa Queen Size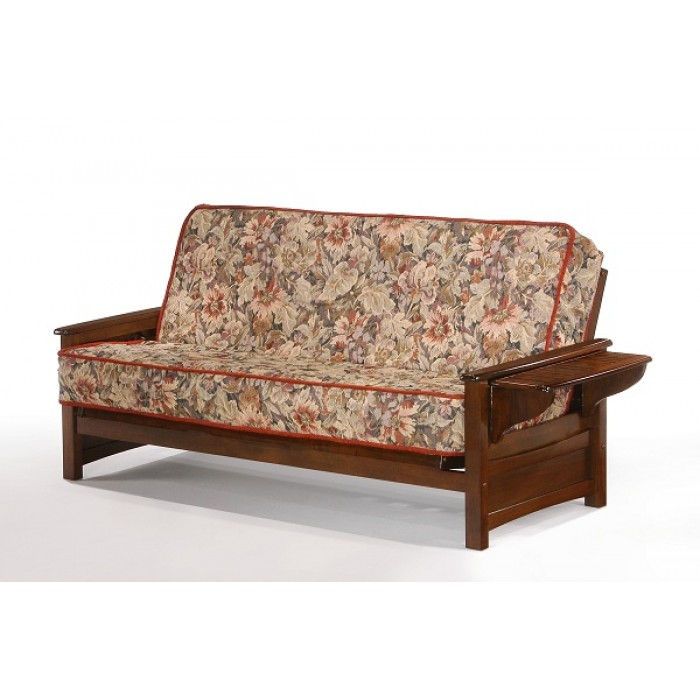 Sunrise Black Walnut Complete Premium Futon Sofa Queen Size
Scroll down for information on the futon mattresses choices.
The Sunrise frame is a Premium frame that features an easy front loading operation system which means the futon can be converted from bed to sofa and back from the front with little effort. This operation system takes away the hard labor, as lifting a futon from the side or back can be difficult depending on the placement of furniture in your room and the weight of the mattress. The Sunrise features flip-up trays.
Cover availability changes rapidly. The cover shown in the photograph is not included in the price. To choose a cover head over to our cover category after you have placed your sofa in the cart.
sale
Product Information
This futon comes with a choice of 6 mattresses. Each of these mattresses has been chosen for its comfort and suitability for the sofas operating mechanism. Keep in mind the comfort of the mattress also effects seating comfort. Scroll down for information on the futon mattresses choices.
Night and Day premium line features a front loading mechanism, optimal seating angle and attractively finished solid hardwood. Additionally the Sunrise has handy pop-up trays ideal for small rooms.
The natural finish shows all the beauty of real wood and contemporary styling.
Futon Mattresses Choices.
The Regal 6"
Our introductory priced mattresses for wooden frames is the Regal 7". This plush generously filled futon is a step up from our basic futon, ensuring you will not feel the wooden slats when sleeping. Six layers of polyester and cotton batting encase a 1 1/2 inch piece of foam. This American made futon mattress is infinitely superior to the 4" thick imported futon offered by many online retailers.
The Regency 8" Plush (+$25)
With 2 layers of 1.5" high-density foam and 6 layers of polyester and cotton batting, this lively futon offers a durable sleeping and seating surface.
The Royal 8" (+ $40)
For those who like an extremely firm mattress, this thick foam and cotton futon fits the bill. Two layers of high-density foam are surrounded by 6 layers of pre-compressed cotton batting.
The Legend 9" (+$75)
Utilising 2 layers of orthopedic finger foam and a luxurious blend of poly-cotton batting this soft futon is like sleeping on a cloud.
The Comfy Coil 8" (+$105)
When it comes to resilience you can not beat the durability of an innerspring. Unfortunately, many of us have experienced the dreaded sleeper sofa mattress with popping springs. The Comfy Coil futon mattress avoids this issue by using a flexible low-profile spring enclosed in foam. This unit is then wrapped in natural cotton batting ensuring the cool comfort of natural fiber. This futon truly combines the best of East and West mattress technology.
The Imperial 10" (+$155)
For those who wish the ultimate futon experience, the Imperial is the way to go. Fabricated from high-performance foam with built-in air pockets this futon flexes to fill your curves. The result is exceptional back support and sleeping comfort, without the weight of an innerspring.
Visco Coil 9" (+$280)
The Goldbond Visco Coil Futon Mattress is truly the gold standard in futon mattresses. A heavy duty spring inner-core is wrapped in premium cotton batting and high-density foam. This creates a firm support for your back and a mattress guaranteed to hold its shape for 10 years. Topped with three layers of memory foam and a top layer of cool cotton batting this futon mattress has it all.
Matching storage drawers and tables available.